آخر الاخبار
بيانات
We welcome the decision of the Kingdom of Saudi Arabia to extend the work of MASAM demining project in Yemen for a full year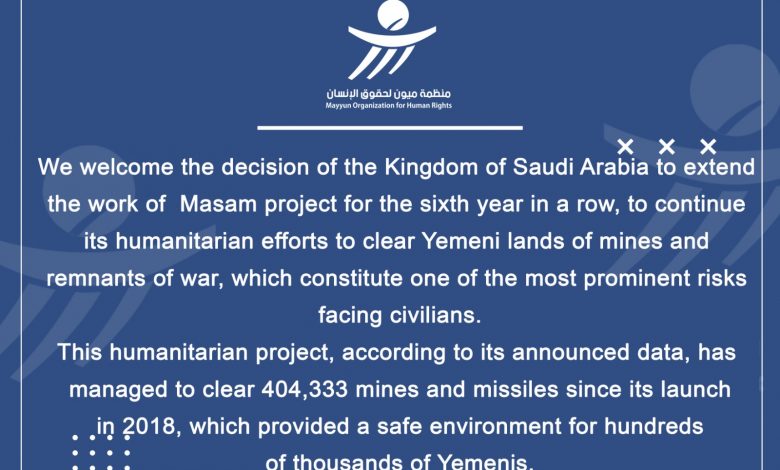 We welcome the decision of the Kingdom of Saudi Arabia to extend the work of MASAM demining project in Yemen for a full year.
The Masam project, with its sacrifices and achievements, represented an inspiring experience for its counterparts in international projects and initiatives working in the field of demining around the world. This humanitarian project managed – according to its announced data to remove 404,333 mines and various missiles since its launch in June 2018, which provided a safe environment for hundreds of thousands of Yemenis on an area estimated at more than 47 million square meters of land that it was able to clear.
The decision to renew the project for the sixth year in a row is important to continue its humanitarian efforts to clear Yemeni lands of mines and remnants of war, which constitute one of the main risks facing civilians.
In this regard, we call on the Houthi group to implement its obligations to hand over maps of the minefields that it has planted in various Yemeni governorates so that Project Masam and other programs and projects can clear those fields in a record period to reduce the number of victims.
Issued by Mayyun Human Rights Organization June 20, 2023