آخر الاخبار
بيانات
Mayyun calls on the Houthi group to reveal the maps of the mines in Shabwa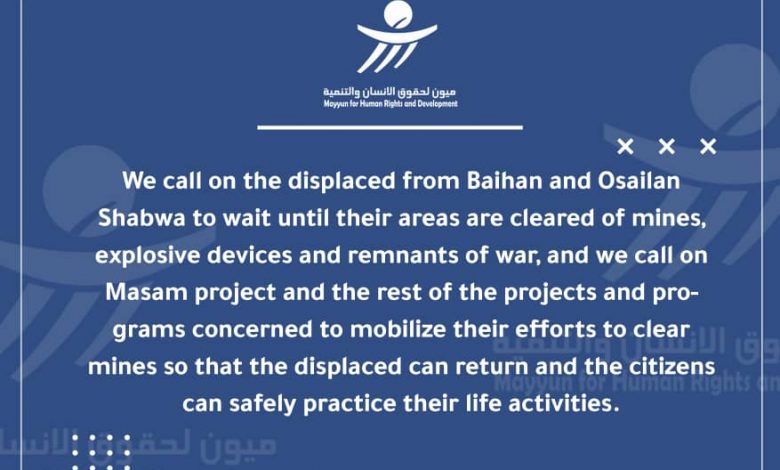 Alarming reports of the contamination of all areas of Osaylan and Baihan in Shabwa governorate, western Yemen, with mines, explosive devices and unexploded ordnance; Including residential areas, which poses a serious threat to civilians.
Numbers of civilians were killed and wounded in those areas as a result of the explosion of those mines, as human rights monitoring reports we have seen confirm that 5 civilians were killed and others were injured during the past 48 hours.
We join the voices calling for the displaced to wait to return to their homes in Beihan and Usaylan until they are cleared of mines, explosive devices and remnants of war.
At the same time, we call on the engineering teams of Masam project and the rest of the projects and programs concerned to mobilize their efforts in the districts of Bihan, Osaylan and Ain to remove mines from residential areas so that the displaced can return to their homes and citizens can safely practice their life activities.
We also call on the Houthi group to hand over mine-laying maps in the three Baihan districts to help save the lives of civilians.
We stress the United Nations to shoulder its responsibilities and pressure Houthi leadership to hand over the maps to prevent more civilians from being killed.09-01-2022