آخر الاخبار
بيانات
A statement condemning a brutal crackdown on villages and the kidnapping of dozens of civilians in Al-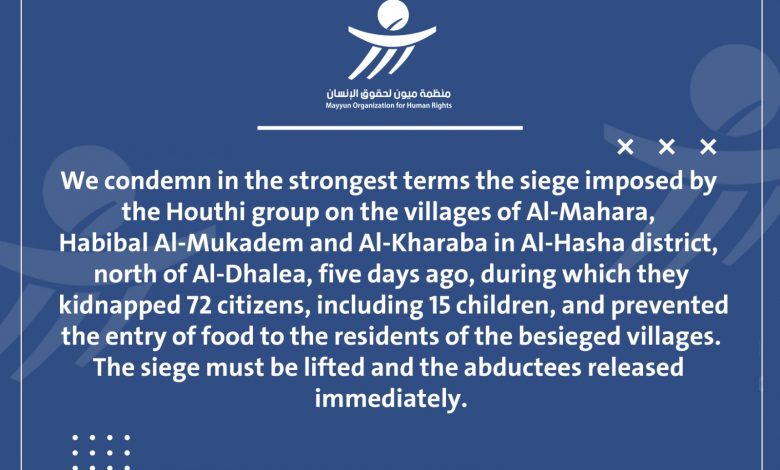 A statement condemning a brutal crackdown on villages and the kidnapping of dozens of civilians in Al-Hasha
Mayyun Organization condemns in the strongest terms the siege imposed by the Houthi group on the villages of Al-Mahara, Habibal Ai-Mukadem and Al-Kharaba in Al-Hasha district, north of Al-Dhalea, five days ago, during which they kidnapped 72 citizens, including 15 children.
It also condemns and expresses its denunciation of this military campaign launched by the fourth military region of the Houthi group, consisting of dozens of military vehicles and hundreds of armed men, to prevent the entry of food to the population in the besieged villages and to kidnap anyone who tries to leave the area in light of the threats launched by the campaign leader with anticipated raids on homes by the Zainabiyyat units. armed.
These violations against civilians because of their expression of their rejection of the Houthi group's control of a water barrier in their area and the digging of an artesian well to supply the new military sites and the security department building with water in an area that suffers from water scarcity, as its people depend on surface water wells that they fear will dry up because of these ill-conceived measures.
As we declare our solidarity with the victims of oppression and abuse as a result of this military campaign, we call on the Office of the Special Envoy of the United Nations, human rights organizations and activists to condemn these repressive practices against the residents of the besieged villages, work to lift the siege, allow the entry of food to the besieged, and release all the abductees immediately.
Issued by Mayyun Human Rights Organization May 25, 2023