آخر الاخبار
بيانات
A statement of solidarity with women in Yemen on the occasion of International Women's Day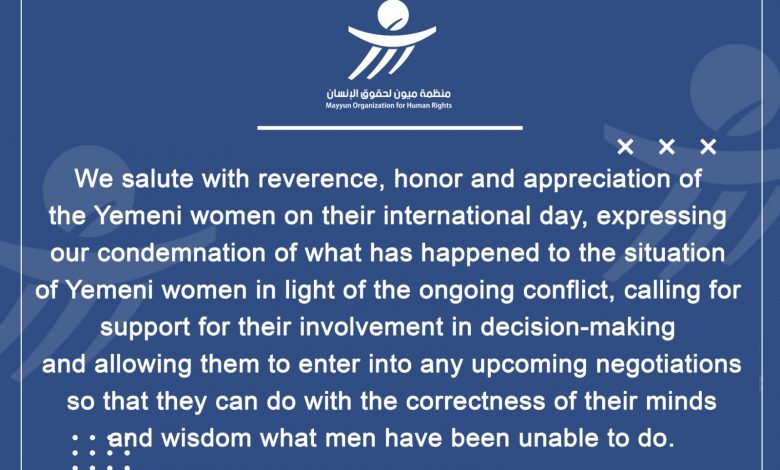 A statement of solidarity with women in Yemen on the occasion of International Women's Day
On International Women's Day, which the world celebrates today, Wednesday, March 8, 2023 AD, we salute with reverence, honor and appreciation for the Yemeni women who bear the greatest burden and the most severe suffering in light of the war that has been going on in Yemen for eight years.
Violations of women's rights in Yemen have reached an intolerable level, to the point where they are deprived of their right to move freely and obligated to the facilities of "Muharram", and despite the continuous condemnations of human rights organizations and those defending women's rights, this unfair and inhuman decision enacted by the Houthi group It is still applied to women in the north of the country.
We in the Mayyun organization express our strong condemnation of the situation of Yemeni women and the conditions of Yemenis as a whole. We affirm at the same time the capabilities and potentials that Yemeni women possess – if empowered – to improve the economic and political conditions. We are fully confident in the ability of Yemeni women to create a political and social climate and work to motivate the parties to the conflict to sit at the negotiating table in a comprehensive and lasting peace process and create an appropriate environment for its success.
From this standpoint, we call on all political forces and components, with their various orientations, to support the involvement of Yemeni women in political and economic decision-making, and to allow them to enter into any upcoming negotiations effectively, so that they can do with the soundness of their minds and wisdom what menhave been unable to do.
Issued by Mayyun Human Rights Organization
March 8, 2023