آخر الاخبار
بيانات
Statement condemning the continued fall of civilians to landmines in Hodeidah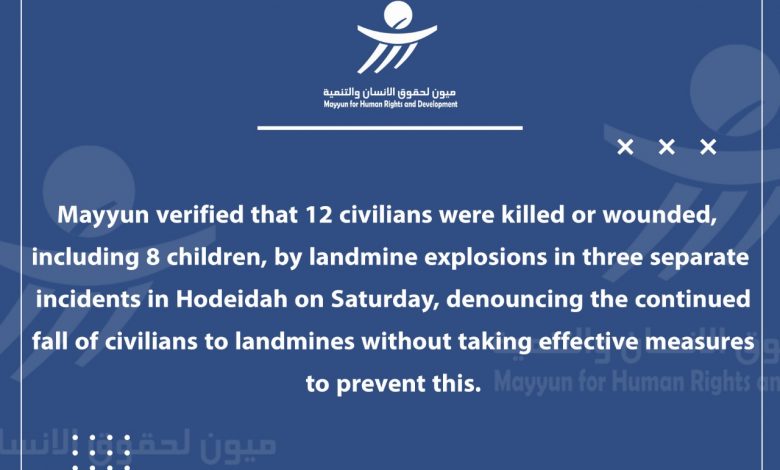 Statement condemning the continued fall of civilians to landmines in Hodeidah
A number of civilians were killed and wounded by landmines explosion in three separate incidents in Al-Hodeidah Governorate, Saturday, September 24, 2022 AD. So far, we have verified 4 deaths, including two children, and 8 wounded, including 6 children, in the districts of Hays, Beit Al-Faqih and Al-Hali.
Mayyun, as she denounces these horrific violations, denounces the continued fall of civilians to landmines without taking effective measures to prevent this, expressing at the same time its solidarity with the families of the victims and standing by them in their painful suffering.
It calls on the United Nations to pressure Houthi group to hand over the maps of the mines it planted in the governorate and the rest of the governorates, or to ask civilians not to return to their homes temporarily because of the danger it poses to their lives in light of the continued classification of their residential neighborhoods as mine-infested areas.
In this regard, the organization notes the alarming numbers of civilian victims of mines since the truce entered into force in early April, which exceeds their numbers in the same period last year, despite the fierce battles that Yemen witnessed on dozens of fronts.
Published by Mayyun Human Rights Organization
25 September 2022