آخر الاخبار
بيانات
Welcoming statement to extend the work of the Masam project in Yemen for the fifth year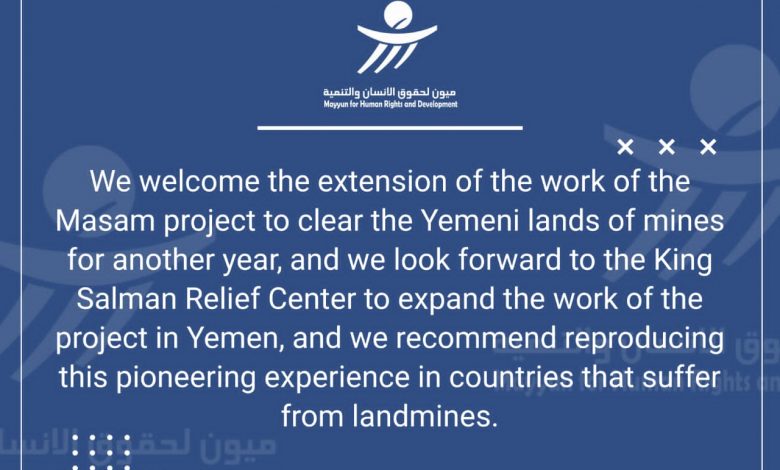 Mayyun Organization for Human Rights and Development welcomes
the announcement by the King Salman Relief Center to extend the
work of the Masam project to clear Yemeni lands of mines for
another year.
The great and tangible efforts made by the Masam Project in clearing
mines and remnants of war in the affected Yemeni governorates
during the past four years are appreciated and respected.
We in the organization highly appreciate the enormous sacrifices
made by the project, including dead and injured experts, while
performing their duty in order for civilians to live in a safe
environment from mines.
We consider this project an exemplary project in the field of demining
that has proven efficient in performing its tasks in residential areas
and livelihoods that were infested, and we have tracked the number
of civilian victims whose numbers have vanished after the project
completed its work in their areas.
In this regard, we look forward to the King Salman Relief Center to
expand its work in Yemen, and we recommend reproducing this
pioneering experience in countries that suffer from landmines.
                  Published by Mayyun Human Rights Organization
                                            25 June 2022